Other Invasive UK Weeds
Eradication of Ragwort, Himalayan Balsam, Buddleia, Ivy, Giant Hogweed
020 3488 0922.
Ragwort Removal
The Ragwort Control Act 2003 (which amends the Weeds Act 1959), imposes a duty of responsibility on landowners to effectively control Senecio jacobaea, preventing it from spreading to land where animals are grazing

We have been dealing with Ragwort infestations for a number of years on behalf of property developers, local councils such as Camden and the residential sector.
Himalayan Balsam Removal
The non-native, purplish-pink, Himalayan balsam grows in dense stands which overshadow surrounding plants.
It needs to be heavily managed by cutting down the plant before it seeds.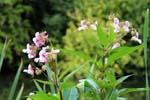 Effective strimming, cutting, pulling and up rooting before seeding can achieve complete eradication in one season


Wow Factor Customer Reviews
We have an amazing client list consisting of many high profile business and public sector agencies.
Our aim is 100|% customer satisfaction. This is achieved through outstanding customer service and providing cost effective, value for money prices. Over 90% of our work comes through recommendation - a fact that speaks volumes
Ivy Removal
Ivy, properly controlled and pruned, can make a sensational addition to any garden, enhancing tree, fences and buildings.
Left uncontrolled, Ivy can cause damage to building, especially around doors and windows.
Generally, it doesn't damage brickwork, but it will exploit any weaknesses in the structure. Call us if you have problem ivy.
Giant Hogweed Removal
Giant hogweed, Heracleum mantegazzianum, is an invasive weed which can grow to well over 3 metres in height with leaves the size of dinner plates

Download the excellent Giant Hogweed Identification Guide produced by the RPS - It is the only field identification guide you will ever need.
Buddleia Removal and Control
Buddleia aka Buddleja is an interesting ornamental plant for the garden.

Once buddleia leaves the garden it can become a highly invasive, difficult to control plant.
if will flourish just about any where, out-competing most other plants, leading to a severe reduction in bio diversity on the site.