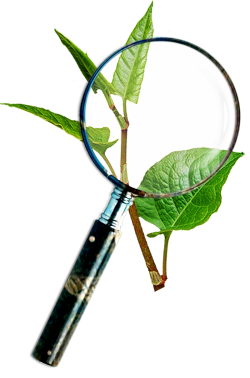 FREE Mortgage Report and Survey
We charge for our Knotweed Management Plans for Mortgage purposes - £250
However, should you decide to sign up for the knotweed treatment we will deduct the cost of the report from the treatment.
FREE QUOTES
The cost of treatment is £155 per square metre. For herbicidal treatment, a square metre is measured above ground. If excavation is required, the square metre measurement will take into account the root system.
Feel free to contact us for clarification.
Email Identification with Photos
Email us photos of your suspected infestation and we will tell you if you have Japanese Knotweed. Send photos of the infestation as a whole, and close up photos of the stem, leaves and base of the plant.
For your Peace of Mind
We are specialist knotweed contractors to London Councils such as Camden, property developers and professional landlords. Our many happy customers come from the commercial, public and private sectors and we have a wow factor client list. We can provide a full set of checkable references.
We hold a Waste Carriers License - a legal requirement for transporting and disposing of Japanese Knotweed. We also have full NPTC certification for the use of Pesticides and Herbicides - this is another legal requirement.